1. Name, age, country and Battle tag.
Tom, 23, England, Savage#22729
2. Link to armory (please log out in gear you will raid in).
https://worldofwarcraft.com/en-gb/chara ... savagestab
3. Artifact level?
Sub 57
Assassination 52
Outlaw 52
4. What are our raiding times, and do they suit you?
Wednesday 19.45-23.30
Sunday 19.45-23.30
Monday 20.45-23.30
They suit me perfectly!
I am also happy to extend on Thursdays/Tuesdays!
5. What loosystem do we use? (This is meant to see that you have read our rules)
You use Loot Council using the RC loot council app and all loot is given out in the way that best benefits the raid
6. What guilds you were in and reasons for leaving? (short description)
Stark Industries - Left to run the alliance version of the guild on silvermoon
The Watchmen / From Ashes - Disbanded
Scrubz - Tried some hard core guilds while there never found a good home, eventually left due to GM, shortly after guild disbanded, if you would like the full story please ask Krisena or Trivs both officers with me Scrubz
No Hard Feelings - Great guild but very cliquey and refused to take a 5th healer so often cannot progress when a player can't come
Inner Sanctum - Current Guild Atmosphere does not suit me
Been in some interim guilds between these but mainly friends guilds while I searched for a more suitable guild
7. Logs of your past raids
https://www.warcraftlogs.com/rankings/c ... metric=dps
8. Screenshot of your UI (in a raiding situation)
9. What are the sites you use to keep up to date on your specc/class?
The main two resources are Ravenholdt Website and Ravenholdt discord. The discord has interesting information if you can shift through all people asking which spec is best. The online resources for rogue are slightly behind but they are beginning to catch up a lot of my info is from analysing logs.
10. Info about alts (if any)
Don't even get me started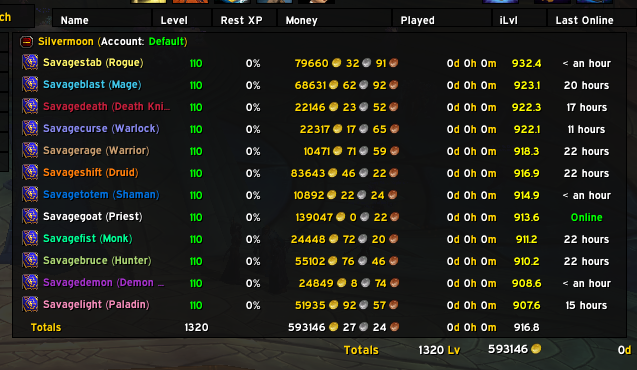 21 Concordance and 53 legendaries
Most legendaries/ Most comfortable on Mage, DK, Balance Druid and obviously Rogue
*Quick edit just received BiS Unholy Shoulders*
11. How did you hear about our guild, what made you apply?
A couple of old friends joined the guild and I have been looking for a guild with a friendly atmosphere.
12. Describe the hardest PVE boss you killed (ever) - how long did your guild work on it, what was hard, what was good about the fight etc..
The hardest boss I progressed was Archimonde mythic, it was a great time for me as I was in a guild I enjoyed spending time with and I was at the top of my game. As a sub rogue, I could dominate the dps along side the mages, however cheesing was not the order of the day. Making sure the legendary ring or my own soul cap did not hit unnecessary adds in phase one and two. It was also a time we were using old set bonus' to get more DPS on the pull, along side playing a spec I loved at the time for its complexity and depth compared to assassination. Switching to adds was a something important but only when I could do so effectively since outside of cooldown windows it was pretty pointless as sub and saving my cooldowns for specific add sets was another level of depth to the fight.
I also produced the kill video for this fight and was very happy with the result:
https://www.youtube.com/watch?v=e4YDs61JLVE&
13. Anything else that could convince us that you are a good addition to our raids.
I picked up 9 random people out of a community guild, some who had never raided, went over their logs, watched videos of them playing, discovered who could improve and who were never going to to get better and turned them into a heroic raiding guild in 4 months, so I could raid because no one else would give me a chance. Once I was given a team in The Watchmen, I went through logs for hours, moulding a newly formed team at the end of 5.4. We had no healers at max level 10 days into the expansion, so I healed on my 3rd capped character (a disc/holy priest) to gear our raiders in heroics. WoD was about developing myself as a player and as a raider and I feel through the expansion I have achieved my goals, I am committed and I will stop at nothing to raid and improve myself.
14. Your plans for the next 6 months - will you be AFK on vacation or take a break from raiding?
The plan is to find a guild to settle down in and to finally return to horde as I miss my trolls and Belfs
As a point I get paid next tuesday which is when I would transfer my character
15. Do you know anyone in the guild?
I know both Krisena and Trivs as mentioned earlier and have friends around Tarren Mill from Scrubz and my time here in MoP